Ya se ha instalado el invierno por completo, y ya sabéis que en DiViero nos encantan los eventos, y mucho más si es una boda!! Por ello, decimos SI a las originales propuestas de la revista Bridal Guide para una boda invernal!! Aquí os dejo todas las ideas!!
Since winter has been completely installed, and you know that we love DiViero events, and much more if it's a wedding! Therefore, we say YES to the original proposals for Bridal Guide Magazine winter wedding! Here you have all the ideas!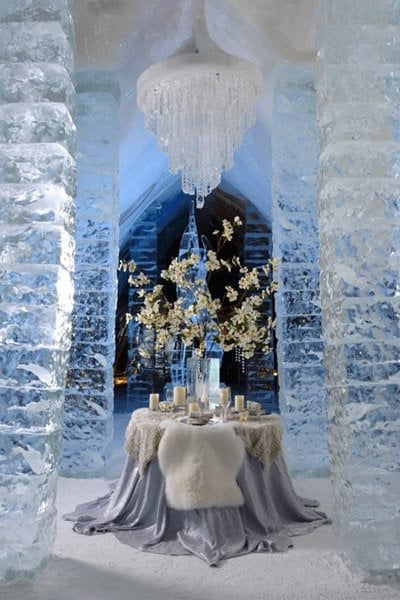 Enmarca tu evento con un aspecto gélido, utilizando una amplia gama de azules y grises.
Frame your event with an icy look, using a wide range of blues and grays.
Photo: Hotel de Glace
A veces lo más simple es la mejor respuesta a todo, utiliza la iluminación a tu favor, combina el blanco y los colores luminosos con tonos tierra y calidos como beige, marrones o amarillos apagados.
Foto: Weedbook. El detective nupcial.
Sometimes the simplest is the best answer to everything, use lighting to your advantage, combines white and bright colors and warm earth tones like beige, brown or dull yellow.
Photo: Weedbook. The Bridal detective.
Un pasillo arbolado que te guie hacia el altar, nos encanta la idea!!
A woodland corridor to guide you down the aisle, we love the idea!
Photo Weedbook.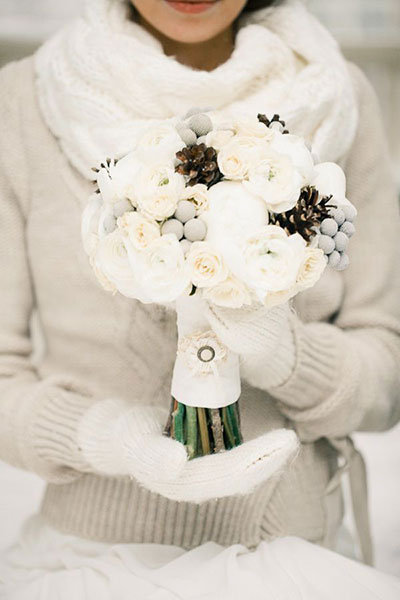 El ramo de la novia no podía ser menos, y sabemos que os gusta cuidar hasta el mínimo detalle, por eso os traemos este Bouquet realizado con piñas, y rosas blancas que le dan un aspecto nevado y recogido.
Foto de Anastasiya Belik.
The bride's bouquet could not be less, and know that I like to take care to detail, so we bring you this bouquet made ​​with pineapples, and white roses to give it a snowy and collected.
Photo Anastasiya Belik.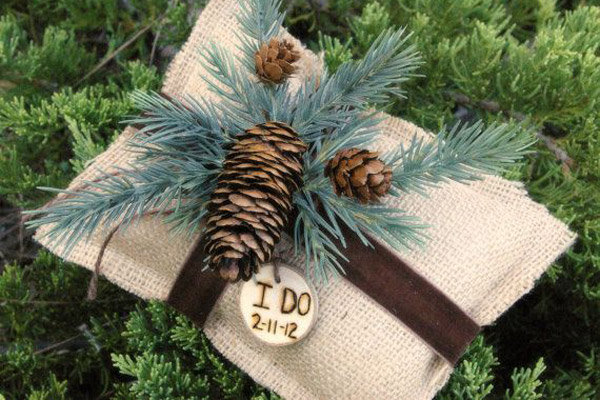 ¿Qué me decis de esta almohada portadora? ¿No os parece ideal?
Foto del Detective Nupcial.
What do you say of this pillow carrier? Is not this great?
Bridal Photo Detective.
Lamparas "flotante" con un aspecto rústico, respetando la estética invernal con las amapolas y los tempanos de cristal colgantes.
Lamps "floating" with a rustic look with aesthetic winter with icebergs Poppies and crystal pendants.
Photo Style me Pretty.
Si aún queréis darle un aspecto más parecido al hielo el cristal y la iluminación serán vuestros mejores aliados.
If you want to make it look like ice crystal and lighting will be your best allies.
Photo of Preston Bailey.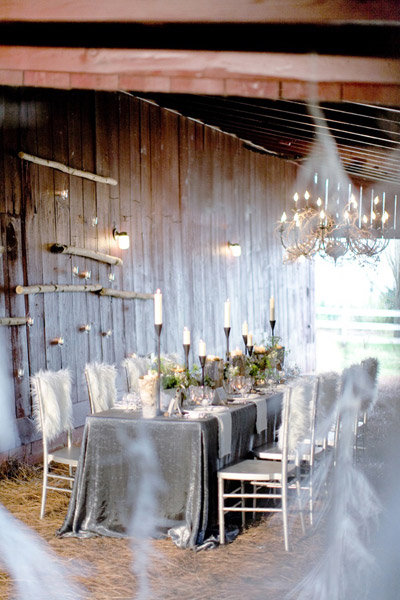 Y si lo que queréis es conservar el glamour en todo momento, no pueden faltar los tejidos brillantes, los candelabros minimalistas y los respaldos polares.
Foto por Leesle Mitchell.
And if what you want is to keep the glamor at all times, can not miss the bright fabrics, minimalist chandeliers polar backups.
Photo by Mitchell Leesle.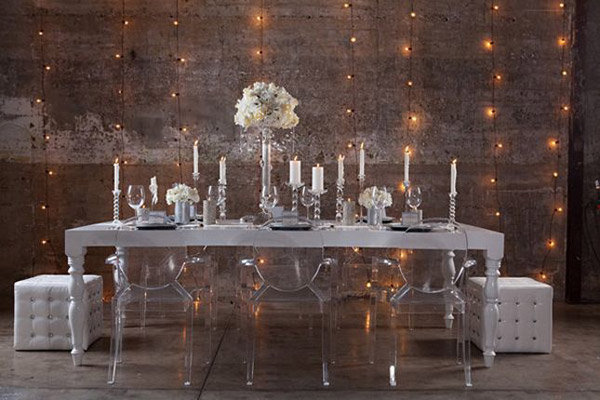 Para las más minimalistas os traigo las sillas fantasmas, combinado con muebles monocromáticos y accesorios de mesa en cristal puede dar un efecto sofisticado.
For I bring you more chairs minimalist ghosts, combined with monochromatic furniture and glass table accessories can give a sophisticated effect.
Photo in Belle Magazine.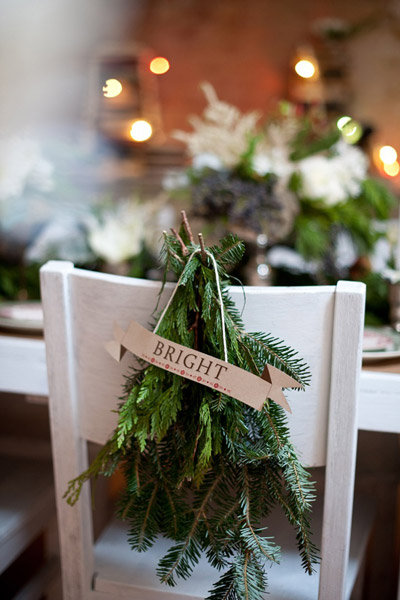 Y empezamos a meternos en terreno navideño, no solo vamos a celebrar bodas, quizás una fiesta del invierno con todas las personas que queremos...
Nos encanta el detalle de la ramita de abeto detrás de cada asiento.
We started to get into Christmas land, we will not only weddings, perhaps a winter party with all the people we ...
We love the detail of spruce twig behind each seat.
Photo on Ruffled Blog.
Detalles personalizados para cada invitado, ramitas de abeto junto al nombre de cada uno de ellos. Un detalle original que seguro que muchos no olvidan.
Foto por Sean Flanigan Fotografía.
Details for every guest, fir twigs next to the name of each of them. An original detail I'm sure many will not forget.
Photo by Sean Flanigan Photography.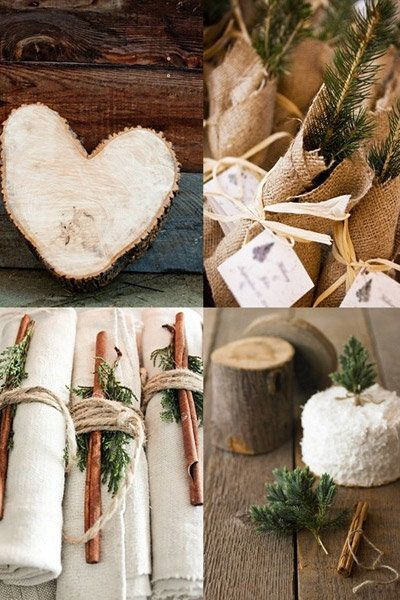 Dale un toque aromático a tus mesas con romero y canela, nos encanta el detalle de acompañarla junto a la servilleta.
Give an aromatic touch to your tables with rosemary and cinnamon, we love the detail to accompany with the napkin.
Photo by Loveolio Swoon.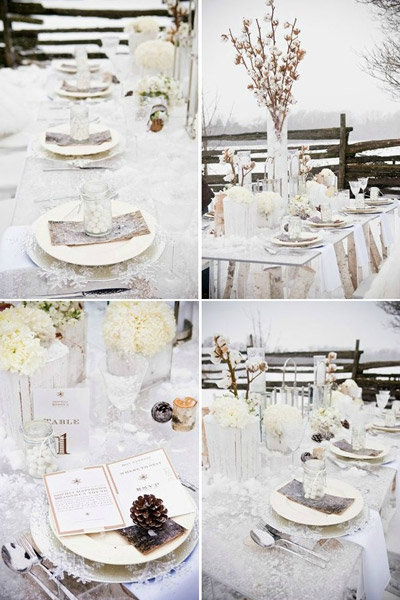 Es muy importante seleccionar la vajilla que concuerde con la estética de la mesa, por ello vajilla de porcelana en blanco esmaltada y cubiertos plateados son la mejor opción. Puedes dar pequeños toques de personalidad añadiendo flores blancas o piñas.
Foto del Detective Nupcial.
It is very important to select the dishes to match the aesthetics of the table, this white porcelain dinnerware glazed and covered in silver are the best option. You can take small splashes of white flowers adding personality or pineapples.
Bridal Photo Detective.
La tarta no puede fallar!! Mirar que diseño más bonito de Erica Obrien!!
The cake can not fail! See what Erica prettiest design Obrien!
Hasta la tarta tiene forma de carambano de hielo!! Cuidando siempre todos los detalles!!
Until the cake is shaped ice icicle! Always ensuring all details!
Created by Cakeability
Si lo vuestro es lo barroco y os gusta sentiros como una auténtica princesa, no os podéis perder los diseños de Cake Opera Co's.
If yours is the baroque and like to feel like a true princess, you can not miss the designs of Cake Opera Co's.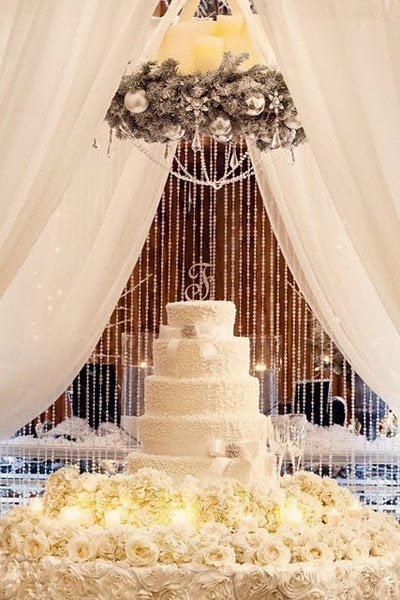 Qué decir?? Una obra de arte comestible!!
Foto del Detective Nupcial.
What to say? A work of edible art!
Bridal Photo Detective.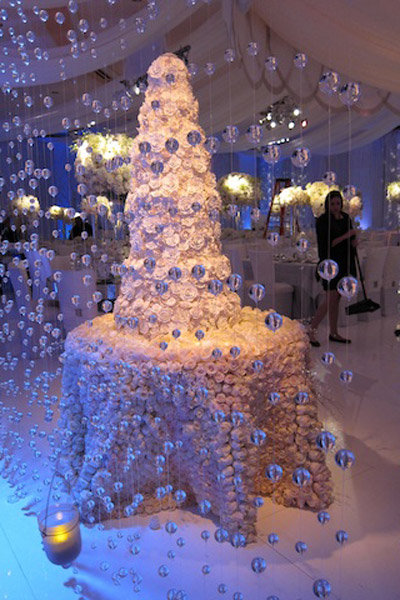 Para dar una atmosfera mágica, podéis colgar detalles flotantes.
Foto por Jay Goldman Fotografía.
To give a magical atmosphere, you can hang floating details.
Photo by Jay Goldman Photography.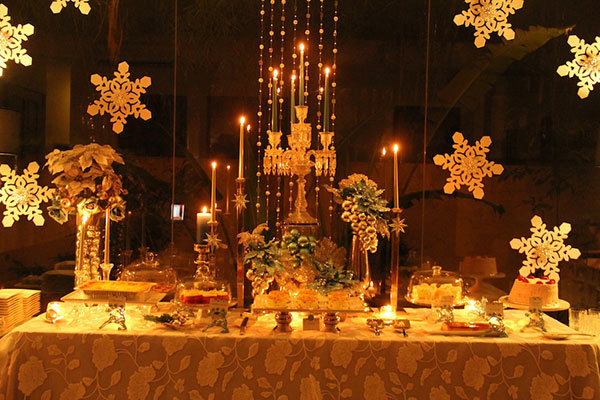 Estrellas de nieve, que mejor opción para una fiesta invernal!!
Stars of snow, the best choice for a winter holiday! .
¿Qué te ha parecido nuestro post sobre Eventos Invernales? ¿Has podido sacar alguna idea? No dudes en preguntarnos lo que necesites. Muaks!!
What do you think our post on Winter Events? Were you able to get any ideas? Do not hesitate to ask us what we need. Muaks!